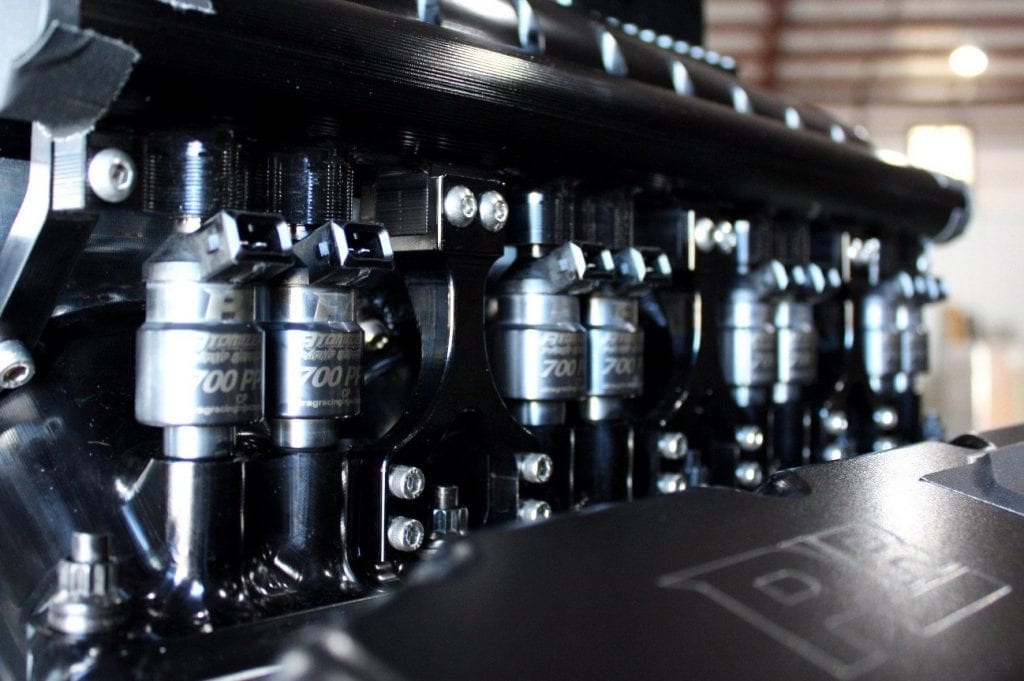 The ever-lasting demand for more horsepower in drag racing has created a thirst for methanol that makes fueling a 4,000+ horsepower car a challenge. The amount of methanol needed for that kind of power is over 1,000 lb/hr per cylinder, which requires two injectors per hole. One of the biggest hurdles for big horsepower EFI tuning is getting the massive injectors to idle well, and Billet Atomizer Racing Injectors are purpose-built for drag racing applications to ensure precise fuel metering from idle to wide open throttle. That is just one of the reasons Pro Line Racing uses them for all of their engines and tuning. We interviewed Jack French, the creator of Billet Atomizer Racing Injectors, to dig a little deeper.
Pro Line Racing: Besides better idle characteristics, what makes Billet Atomizer Racing Injectors better than the competition?
Jack French: Our injectors are designed and manufactured for racing right from the very start. We do not adapt OE style injectors for racing. Every component is designed to work together as a complete system and operate in the extreme conditions of racing. Having full control of manufacturing allows us to custom design injectors for any application, and we listen to our customers. We have created many one-off, custom injectors to suit a racer's specific needs and we use racer feedback to improve our products. Our motto is "By racers, for racers."
PLR: You mentioned that you use racer feedback to make improvements. What improvements have you made?
JF: Most of our injectors are designed for boosted applications and through great feedback, we discovered that a single O-ring for the manifold connection was not enough to contain the high boost pressure that race cars run. The solution was twofold:  design a double O-ring seal for the bottom of our injectors for a transparent installation, and offer a swivel -6 ORB fitting which we incorporate right to the tip of the injector allowing for a tight fit and giving the capability to orient the injector in any position. We also gave a little extra attention to the top of the injectors. The O-ring groove is machined to create a perfect fit between the injector and O-ring. This eliminates O-ring rock in the fuel rail, which makes for a safer injector. The last thing we did was put a radius on the very top of the injector so that it cannot scrape the inside of the fuel rail when installing it. Even though we can service our injectors, we want to minimize the risk of introducing contaminants though creative design where we can.
PLR: You just said that you can service your injectors. What do you mean by that?
JF: We service what we sell and we do it for cost. Our service capabilities go way beyond a simple flow and clean. Since we manufacture the complete injector, we can rebuild any injector regardless of the damage. The Billet Atomizer Racing Injectors are calibrated to within a 0.5% variance across the board. That level of precision does require frequent adjustments when compared to OE style injectors. Much like the racing engines our injectors are installed in, we recommend scheduled service, and perform it at cost. We also offer mock up injectors free of charge to insure accurate injector tip placement and to help protect a customer's investment during the fabrication process.
PLR: Innovation seems to be your strong suit. What exciting plans do you have coming down the pipeline?
JF: We want to eliminate the need for two injectors per cylinder and we have developed the Atomizer 4 to do that.  With a flow capacity of up to 1,500 lb/hr per injector, the Atomizer 4 will expand the range of supported horsepower with a single injector per cylinder. There are many benefits to running one injector per hole: half as many moving parts, half as many wires on the harness, less expensive, easier to tune, and it's safer for the engine. If one injector fails and there are two per cylinder, that hole goes lean and melts a piston. If the same were to happen in an 8 injector setup, that hole would just go out.
The 100% USA made Billet Atomizer Racing Injectors are an obvious choice for the EFI drag racer, and Pro Line Racing is extremely proud to be a stocking distributor for such an innovative and honest product.